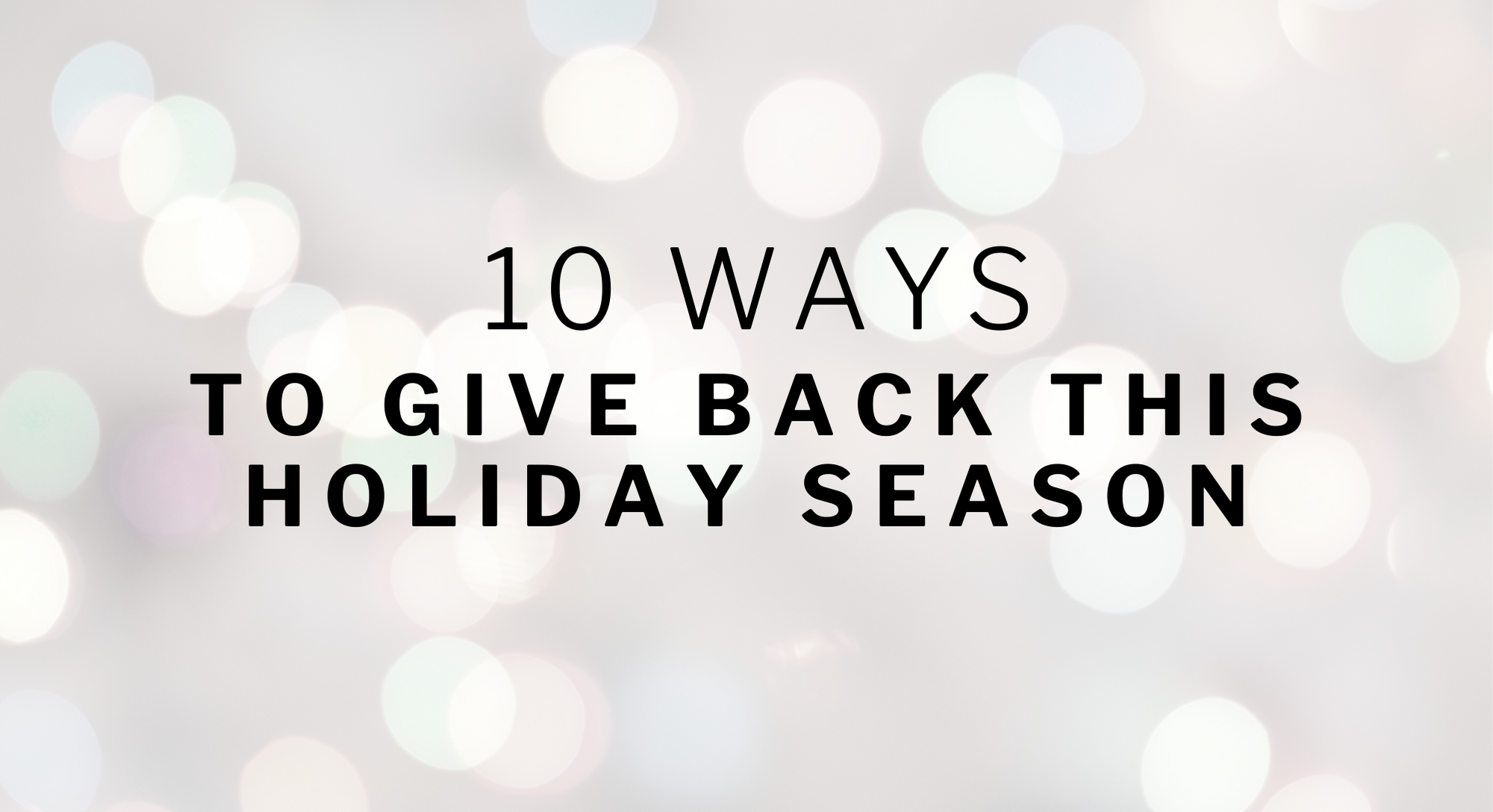 The holidays are just around the corner. It's the time of year to gather together with family and friends and take time to reflect on the past year and the many things they have to be grateful for. Below are a few suggestions on ways you can show your gratitude by giving back to your community…
1. Volunteer at a local senior center or hospital.
Many Seniors and patients don't have friends or family that can visit them during the holidays making them feel especially isolated and lonely at this time of year. Your visit to a local senior center or hospital would be greatly appreciated.
2. Volunteer at your local animal shelter.
There are many ways to volunteer at local animal shelters. There is always a need for a dog walker, kitten cuddler, or bunny hugger.  Crafting your hobby?  You can knit or crochet a blanket for a puppy. More money than time?  Check Amazon for your local shelter's wish-list and have your donation delivered directly to the shelter.
3. Send holiday cards to deployed troops.
This time of year is especially hard for the troops that have been deployed abroad.  A holiday card or letter is a thoughtful way to say, "Thanks for your service" and let them know you are thinking of them at this time of year.
4. Thank your local first responders.
While baked goods are usually the go-to item during the holidays, your health-conscious first responders need to stay fit and ready for action, so consider saying "thanks" with a veggie or sandwich tray for the station, or donate to a charity that benefits first responders.
5. Collect donations for a food bank.
Canned items, as well as pasta, rice, nuts, and peanut butter, are always welcome.  Consider some holiday food items like cranberry sauce, boxed stuffing, or canned pumpkin.  Many local grocery stores offer the option to donate a bag of groceries to a family in need at check-out.
6. Serve a holiday meal at a local homeless shelter.
For those that are local to Sonoma County, the Redwood Gospel Mission will be serving up to 5,000 hot turkey meals at their annual Great Thanksgiving Banquet at the Santa Rosa Fairgrounds.  There are many volunteer opportunities available including pre-event tasks like food packing and flower arranging, as well as day-of-event tasks like coat distribution and foodservice.  
7. Donate used clothes and coats.
With winter weather fast approaching, donations of coats are especially welcome. Safeways in both Healdsburg and Petaluma are participants in the One Warm Coat drive collecting and distributing coats to those in need.  You can also donate gently worn clothing to the Redwood Gospel Mission and the Living Room. 
8. Adopt a family for the holidays.
Many nonprofit organizations in Sonoma County offer low-income families and single moms assistance during the holiday season by offering meals, gifts, small toys, and more. The Volunteer Center of Sonoma runs a yearly program called Secret Santa Now offering many ways to help out. You can adopt a heart or letter and fulfill a wish or volunteer with the Secret Santa Coordinator or donate through the KZST Secret Santa Marathon.
9. Buy toys for children in need.
Many nonprofit organizations and Sonoma County businesses collect toys during the holiday season.  One way to say Thanks to our local firefighters is to donate to their annual Toys for Kids drive, which runs from Thanksgiving to Christmas Eve.  Just look for the collection barrels at any Santa Rosa or Rincon Valley Fire station.  Santa Rosa fighters will also be at the Santa Rosa Plaza Shopping Center during the month of December collecting cash donations as well as donations of new unwrapped toys.
10. Donate blood.
Local hospitals and clinics are always in need of blood donations, especially after at times of emergencies or natural disasters. Blood drives are held in many locations throughout the County, check the Red Cross website or the Vitalant Blood Donation center for dates and locations.