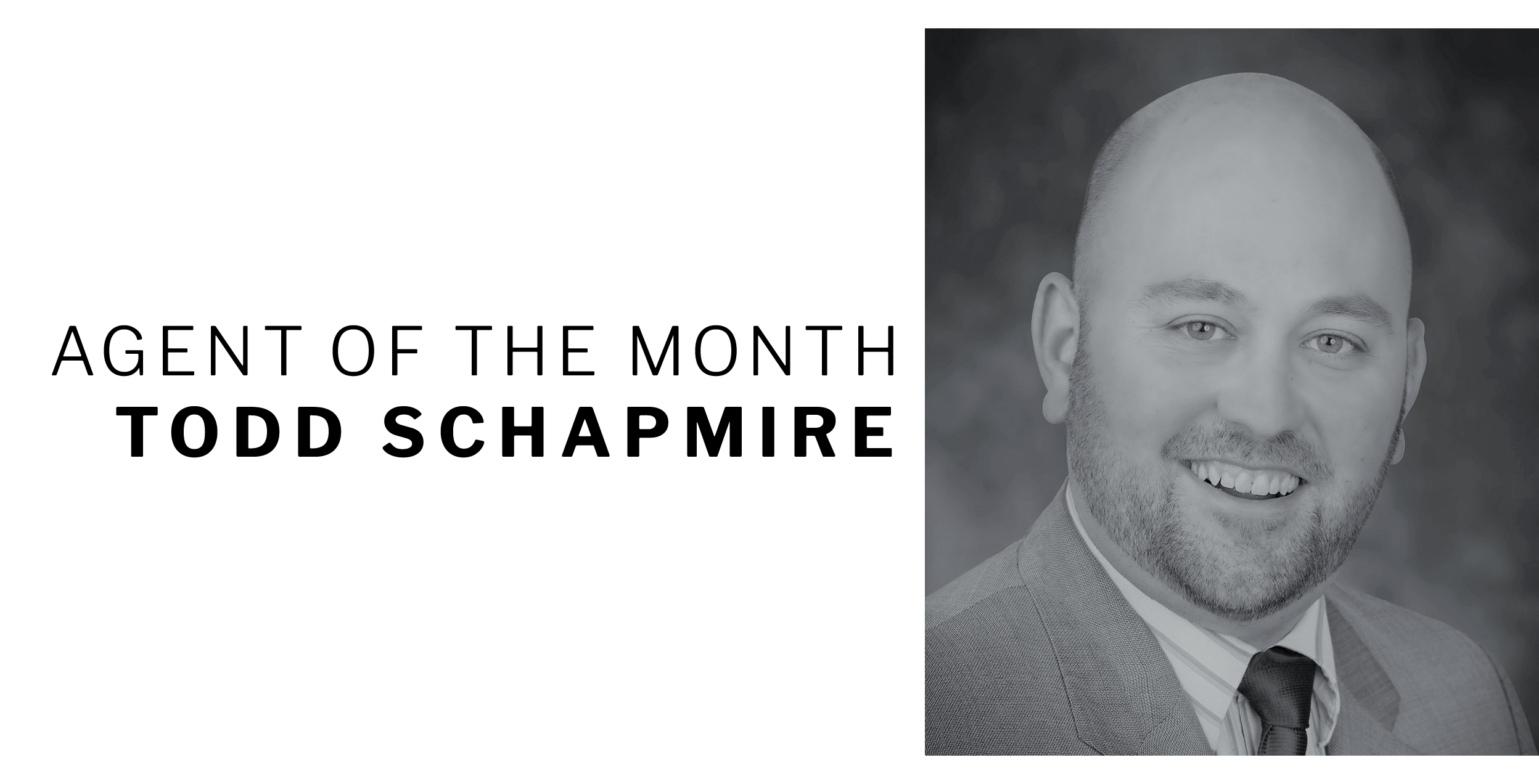 Click the image above to go back to The W Disclosure Newsletter. 
Congratulations to our newest Agent of the Month, Todd Schapmire!
Todd Schapmire is the Team Leader of the Todd Schapmire Team and co-owner of W Real Estate. He's enjoyed major success in both residential and commercial real estate in Mendocino and Sonoma Counties (and a short stint in Long Beach). He is known for his knowledge, honesty, impeccable customer service and not to mention a fun attitude. He has achieved so much but what we love about him most is his humble attitude and unwavering appreciation for the people who support him. 
Continue reading to learn more about our latest Agent of the Month, Todd!
To what do you attribute your success?
An incredible group of role models and mentors. From my parents and grandparents who gave me a work ethic and an unbreakable belief that I can achieve anything I set my mind to, to the real estate and business people that took me under their wing with no expectation of anything in return. And finally the friends, family, and colleagues that currently surround me and are just good human beings.
What was the last book/audiobook you read/listened to?
Well don't tell anyone but I don't really read. The book that articulated the way I see the world is called, The Happiness Advantage. The book that changed how I viewed my business and therefore changed my reality is, The Entrepreneur Roller Coaster. Those are the only two books I have read or listened to in the last decade or so. Both helped me a lot, so maybe I should read more now that I put it that way, haha.

What software/tech tools can you not live without?
Nothing makes me happier than a beautiful spreadsheet, so I love Excel. Docusign saves me about 10 hours a week. TurboScan and Dropbox have played a huge part in allowing me to be super mobile. Goodnotes is the newest tech I am implementing, and I am liking what I am seeing.
Do you believe it is possible to have a successful career while having a fulfilling personal life? Does this balance exist?
Balance is a mirage. No one even knows what that means. It's not about balance, it's about being in the moment in all your relationships. If you are in the moment and make the effort to do special things with your loved ones, then you are going to have a great personal life no matter how much you work. If you don't mentally engage, then how much you work probably isn't the reason your personal life seems out of balance. I no longer define success by how many houses I sell or how much money I have. I define success by the positive impact I make on others and by whether the people I want to love me, actually do love me.
What is a unique aspect of the Sonoma/Mendocino County Residential Real Estate market?
I just love that we can do so many types of property… houses, ranches, vineyards, retail, office, industrial, hospitality, etc. In big cities, you have to specialize in one defined thing and that would be so boring to me.
What is the most underrated/overlooked part of your business? (i.e. thank you cards, social media, etc)
Probably how much Miriah and I actually work. Unfortunately, there is no magic bullet to replace actually showing up.
What are the main things that you should look at when investing/purchasing a new property?
No matter how much Tony Shira makes fun of me… I am all about cash flow!
What is a quote that inspires you?
I am going to go with two John Wooden quotes…
"Do not let what you cannot do interfere with what you can do" and "Things turn out the best for the people who make the best of the way things turn out"
If you had one piece of advice to give someone just starting out in real estate, what would it be?
Talk to people and let them know what you are doing. Pick the phone up. Go to events. No one is going to call you and ask if you are in real estate. It is your job to make sure people know what you do. Once you talk to people… focus on helping them and look at the situation from their perspective, not yours. If you focus on helping people, closed deals will follow.