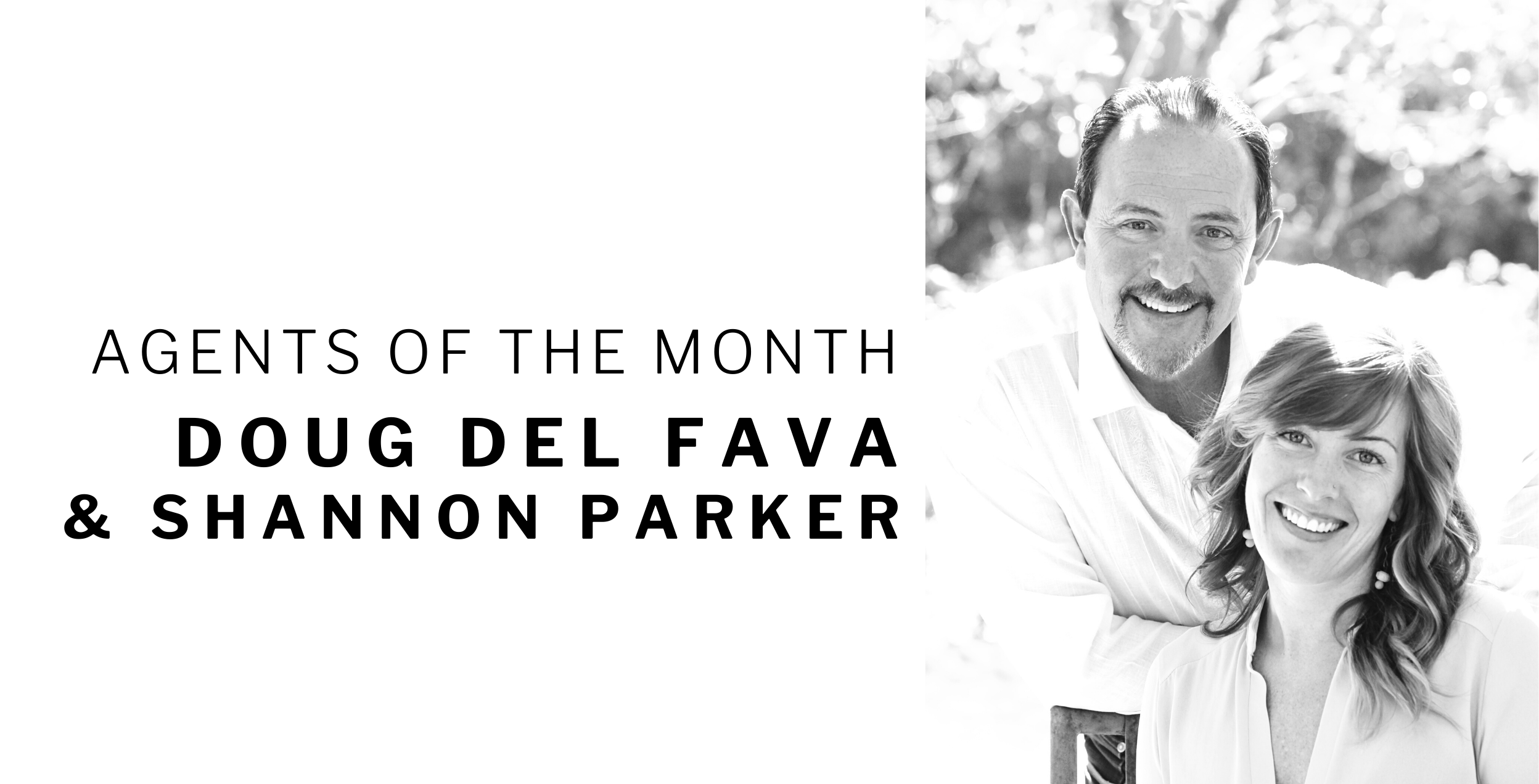 Click the image above to go back to The W Disclosure Newsletter. 
It is our pleasure to introduce October's Agents of the Month, Doug Del Fava and Shannon Parker! The dynamic team pride themselves on their real estate knowledge, as well as their ability to work together to boost up each others skill sets, and to work hard for each of their clients. Keep reading to learn more about Doug and Shannon, and just what makes them such a powerful duo!
To what do you attribute your success?
Shannon and I pride ourselves in great communication, excellent negotiating/problem-solving and a consistent follow-up. Our clients our are family and we pride ourselves on maintaining our client base. I would estimate that around 50% or more of our business are referrals from previous clients.

What was the last book/audiobook you read/listened to?
I am not much of a reader unless it is related to business. There has been so much information thrown at us recently, it has been very important to stay updated and current on the ever-changing guidelines and market activity. A book Shannon read and loved is by Steve Harvey called "Act Like a Success, Think Like a Success."
What software/tech tools can you not live without?

Shannon is the technology "expert" in our team! I primarily rely upon my laptop, cell phone and iPad to stay in touch with the details and tasks of the day. Shannon loves DocuSign, Canva and any other new platform that can help us be more productive.
Do you believe it is possible to have a successful career while having a fulfilling personal life? Does this balance exist?
Shannon and I both make time for activities and a life outside of work. My balances come from my passion of being a musician for over 50 years and a regular round of golf with friends. Shannon usually finds herself with another new home project to keep her busy. We feel it is very important to find a harmonious balance between your work life and finding time for yourself, your family, your relationships.
What is a unique aspect of the Sonoma/Mendocino County/SF County Residential Real Estate market?
The proximity and accessibility to the greater Bay Area makes Sonoma County very unique and desirable. The various types of properties available in the North Bay offer buyers every aspect of real estate to choose from.

What is the most underrated/overlooked part of your business? (i.e. thank you cards, social media, etc)
Getting out there and meeting people!! Networking. Getting your face/name out there. Real estate is about connections, networks, contacts, etc. The more people that keep seeing your face and hearing your name, they will remember you. Networking is fundamental to the success of any real estate business.

What are the main things that you should look at when investing/purchasing a new property?
When searching for properties for our clients, we look for and focus on the elements that best suit the client's individual needs. Some buyers are very particular and some have no idea what they want! This is where one can shine with their knowledge of the market and available properties.
What is a quote that inspires you?

The only difference between a good day and a bad day is your attitude. – Doug
The purpose of our lives is to be happy. – Shannon

If you had one piece of advice to give someone just starting out in real estate, what would it be?
My advice to new agents would be to align yourself with an experienced agent/mentor and attend as many seminars and conferences as possible. This can help you get acclimated in the industry. A lot of this business is experience and learning the ropes. Ask questions and try to absorb all the information you can.