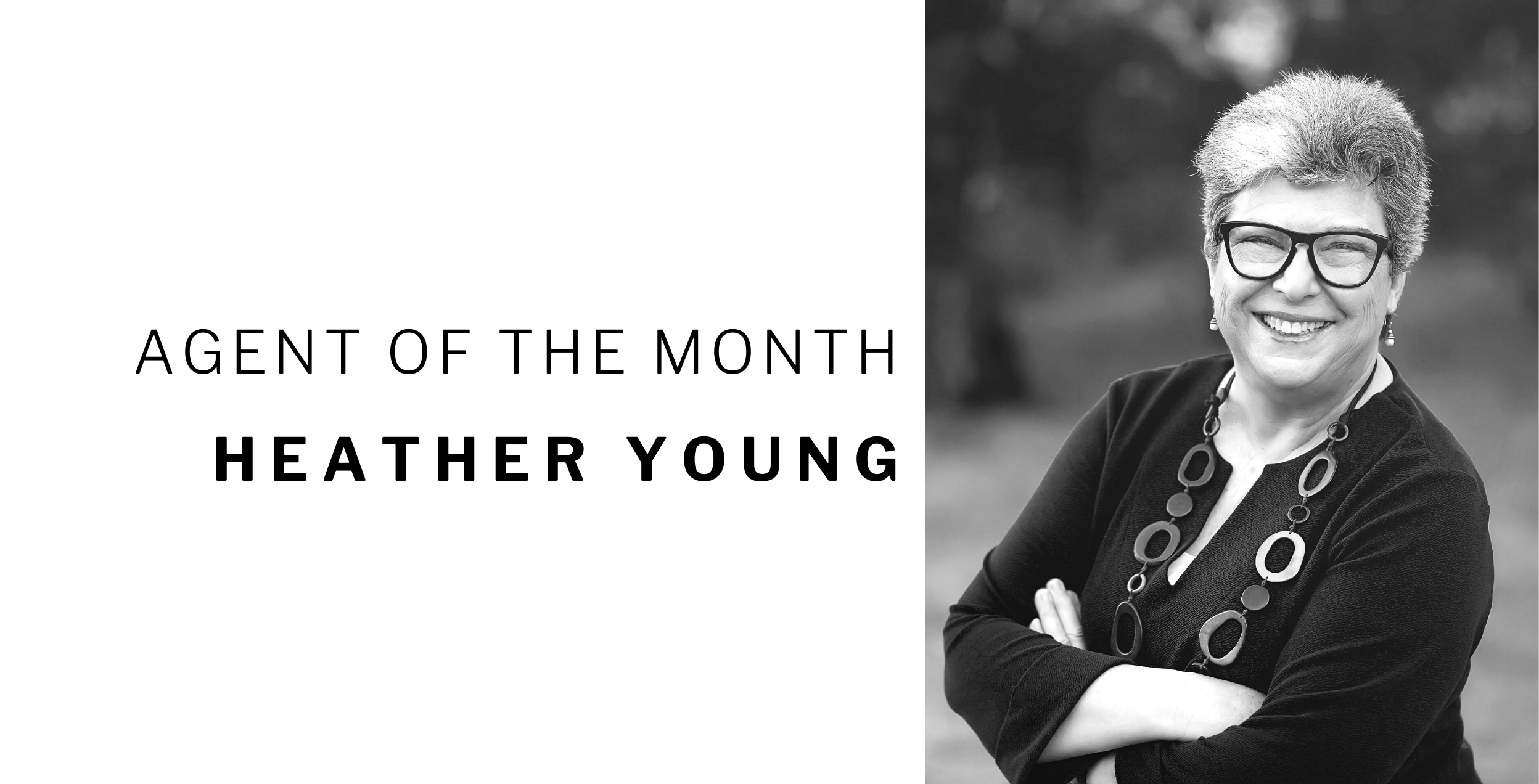 Click this link to go back to The W Disclosure Newsletter. 
Congratulations to our April Agent of the Month, Heather Young! Heathers honest, authentic, and dedicated attitude help her to create strong bonds with her clients that last long after their transactions are complete. Read on to learn more about this valuable member of the W team!
To what do you attribute your success?

I'm fortunate that I get real joy in helping others find and achieve their dream home. I've been in many "helping professions" and enjoyed them all, but real estate is the best match of my love of people, my strong business background, and my years of experience making change happen with individuals and groups. I'm a 4th generation realtor from a small town in Oregon, so I grew up with the ups-and-downs of our profession and I thrive with change! My clients see me hustle for them and they see I truly care.
What's the biggest mistake you've made in your business or the single best thing you've ever done for your business?:
Believe it or not, Being Myself — being honest and authentic — has been my best business decision. When I don't know something, I say so and then go find the answer. There's too much to know in our business and no one can ever know everything. When I was a new agent, I resisted telling my clients or other agents when I didn't know something. But being totally straightforward and honest (with appropriate professional discretion, of course) is 100% my most successful approach.
How do you balance giving personal attention to your clients while still trying to automate your business?:
My business is "boutique" — each client gets A LOT of my attention. I love what I do, so working hard is fun for me and I enjoy the off-again/on-again long hours. Other agents are far more automated than I am — and work with far more clients at one time than I do. My clients span from 20 years old to 90 years old, so I'm constantly shifting between text messages, email, phone calls, and pop-bys. Each person needs a different type of communication and I enjoy the adventure of discovering what works best for them. My clients select me because they have gotten to know me and understand that I will work hard and for them, putting myself 2nd. We're lucky at W Real Estate that this is the ethic of our entire firm, from top to bottom. It matches my style and I love working at W partly for that reason.
How have you adapted your marketing/business during the era of Coronavirus (COVID-19)?:
Lots more phone calls! Fewer emails and text messages. People want to hear my voice and know that things *will* work out. Human connection is a big part of our business and there's nothing like phone contact to sense any issues, address them right then, and get them worked out. Frankly, I've enjoyed talking more on the phone, too, as it helps us all feel less isolated. Somebody said, "We're all in the same storm, but we're in different boats." I feel that reaching out during this time, voice to voice, has never been more important.
What is a unique aspect of the Sonoma/Mendocino/SF County Residential Real Estate market?:
Most of my business is in Sonoma County, with some clients in San Francisco. I love that Sonoma County is both boots-on-the-ground worker bees AND luxury client second (and third) homes. We have seen that in our pandemic statistics and we see it when we look around at our neighborhoods. We're working people, retired people, and people on vacation. I love the variety and I love working with every person's different situation as they purchase their own piece of Sonoma County.
I grew up in the Willamette Valley of Oregon, which is a farm-based economy. I was a townie (my father a realtor), but my first job in the 3rd Grade was helping harvest the strawberry, raspberry, and green bean crops. For Blue Bird fundraisers, I sold candy door-to-door and talked with a wide variety of people. This was great training for real estate, but more important it's why I love Sonoma County so much. We have a wide variety of people and properties — we're tied to the earth, yet also sophisticated and cosmopolitan. That combination defines Sonoma County and our real estate market.
If you could only do one thing differently when you first started your business what would it be?:
Starting a blog or a newsletter and sticking with it. Just sending it out to anyone and everyone and following up on the engagement that came from it. I kept waiting until I knew more, or could make it "perfect" or whatever — I always seemed to have a reason to put it off. I wish I had simply started doing it and just adjusted it as the environment changed.
If a work-life balance is important to you how can you tell if you're getting it right?:
I love my work so much that everyone who knows says I'm a happy workaholic, and I don't really have evidence to dispute that. When I realize it's been too long since I took a vacation is when I begin planning the next one. Travel has the best ROI (after real estate, of course!) in that for each dollar spent, you get a dollar of enjoyment planning, another on the trip, and a third dollar of enjoyment from all the memories.
What was the best vacation you ever had?:
Two come to mind — becoming a certified SCUBA diver in Cabo San Lucas, and climbing some mountain peaks in Japan. I love the earth and there's nothing more fun than a picture from a top of a high mountain! I've sailed to Catalina many times and taken a ship around Costa Rica and Panama. All wonderfully memorable. And also, all very far away from the telephone!
If you had one piece of advice to someone just starting out in real estate, what would it be?:
Don't get bogged down in a schedule. Sure we work hard, but the minute we say, "Tuesdays are my day off" then an inspector can ONLY come on Tuesday! Roll with the business that comes in — and of course work regularly to get that business — and do your best to work the family and personal obligations around the work. Don't stress about other things, just make working your first schedule priority, then fit "life" in around the edges. After the first couple of years, a rhythm comes and it gets easier. Not welcome advice for busy families, I'm sure; but I think looking at real estate this way really reduces the tensions of trying to "do it all."
What are you looking forward to most in the New Year?:
I'm finally automating more of my business and am looking forward to the fun of staying up with our industry changes. Real estate will always be local, but my business has become more global and I want my clients to be fully comfortable with that. 2021 is going to be a wonderful year!