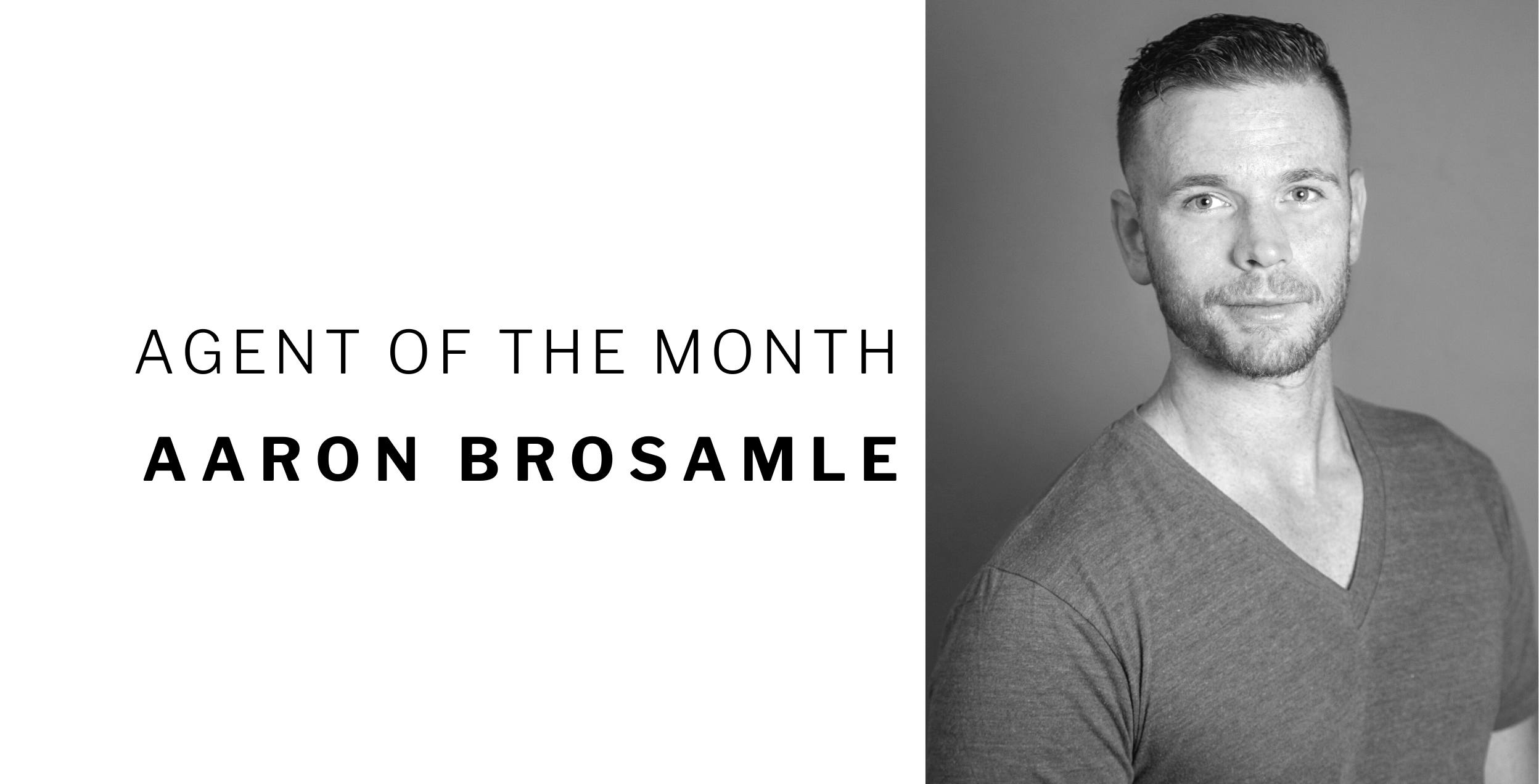 Click this link to go back to The W Disclosure Newsletter. 
There's something truly special about an agent who knows who they are, their strengths and weaknesses, and can bring that strong sense of self to each and every one of their projects. Our September Agent of the Month, Aaron Brosamle, deeply understands that clients want to deal with a real, authentic person who will tell them like it is. By being himself throughout each of his transactions, he has been able to build a strong sphere and make a name for himself throughout Sonoma County and beyond. Keep reading to learn more about Aaron!
To what do you attribute your success?

Being fortunate enough to have wonderful people in my life and having trust in myself to make all of the little decisions on a daily basis that in turn affect the possibilities that come about. I do my best to constantly check in and be the type of person that I would want to be around whether business or otherwise.
What's the biggest mistake you've made in your business or the single best thing you've ever done for your business?:
I believe the best thing that I have done for my business is to have an unwavering need to be upfront and honest in all situations and continuing to make that a priority as well as letting each situation guide the tempo of the project. Different situations command different personalities and perceptions, being flexible with who I am in a wholesome and truthful way really helps me to be present and focused for all of the different types of clients that I am blessed to work with. Conversely, I would say that when I first started in this career, my largest struggle was thinking that there was a mold or guideline for what an agent, what a Realtor had to be…how I needed to dress, where I needed to be, who I needed to make sure I impressed, all still very important things to keep in mind, but not templates for who I needed to be.
How do you balance giving personal attention to your clients while still trying to automate your business?:
This is a constant work in progress…I would say I am not great at automating my business, haha…I tend to say yes to everyone and make it work so that I can be personally hands on. My wife says I can't say no to anyone, that I will just work and work and run my day into the ground…it's just who I am.
How have you adapted your marketing/business during the era of Coronavirus (COVID-19)?:
My business hasn't changed all too much due to Covid. Perhaps a bit more remote work/video tours etc in the beginning…I try to keep a relative mind and certainly be patient and respectful so that safety is kept as a must, but at the same time I have a bit of an old school business mind. I grew up in a retail jewelry store that my family owned working face to face with customers and then traveling with my dad for the wholesale side of the business…I work best in face to face personal situations where I can really feel what my clients are saying and needing so the personal space restrictions were difficult at first but now getting better.
What is a unique aspect of the Sonoma/Mendocino/SF County Residential Real Estate market?:
Our greatest commodity is our community. Wonderful artistic, talented, and creative people. This in turn means that we, I believe, have some of, if not the best foods, activities, weather and surrounding nature that ties it all together. I have traveled quite a bit and no other place quite compares. There are so many reasons why our area is so special and to be honest, I strongly believe that when one spends time here the words to specifically describe what or why become difficult to grab ahold of, it becomes more of a feeling and you just find yourself thankful to be here.
If you could only do one thing differently when you first started your business what would it be?:
I would probably work a bit more on a website or some sort of marketing…I still need to focus a bit in that area. I do great with people, I love what I do and the way I have been able to succeed, I struggle getting excited about social media and marketing. I probably have at least 10 properties and more reviews that I need to post or make public for others to see, and I am sure that would go a long way for people outside of my sphere to know who I am and just how well I can do for them, obtaining higher sale prices with less time on market, or negotiate a purchase for a buyer in a difficult or unique situation, deal with difficult legal issues or trust/probate sales etc.
If work-life balance is important to you how can you tell if you're are getting it right?:
I have the most amazing wife and daughters, balance is extremely important. This is likely different for each person, I can tell when I'm pushing too much in one direction or the other just by how I'm feeling inside. I go absolutely nuts when I'm not working enough and feel terrible when I'm working too much for my family so I do my best to keep an even keel here.
What was the best vacation you ever had?:
The best vacation I have ever had is probably still my honeymoon. We went to Belize and were fortunate enough to spend a couple of weeks hanging out on an island, visiting Mayan pyramids, going cave tubing and exploring, feeding wild monkeys bananas and getting caught in crazy rain storms. Absolutely amazing. For me being on the ocean, with my wife, and also getting to explore an ancient civilization was it, I grew up wanting to be an Archaeologist and still have some ambitions of exploring that in the future…hopefully.
If you had one piece of advice to someone just starting out in real estate, what would it be?:
Be as content and secure with yourself as you can, people won't be able to trust someone who doesn't trust themselves and you won't be able to do the best job you can unless you do. Trust that you have your own best interests in mind and work hard. Be good to everyone around you always. Be honest and remember that buying or selling a home or property is a really large emotional transaction as well as business for most and try to be mindful and considerate at all times, especially when things get difficult and they certainly will from time to time. Working through the difficult ones make a better, stronger agent if you let them!