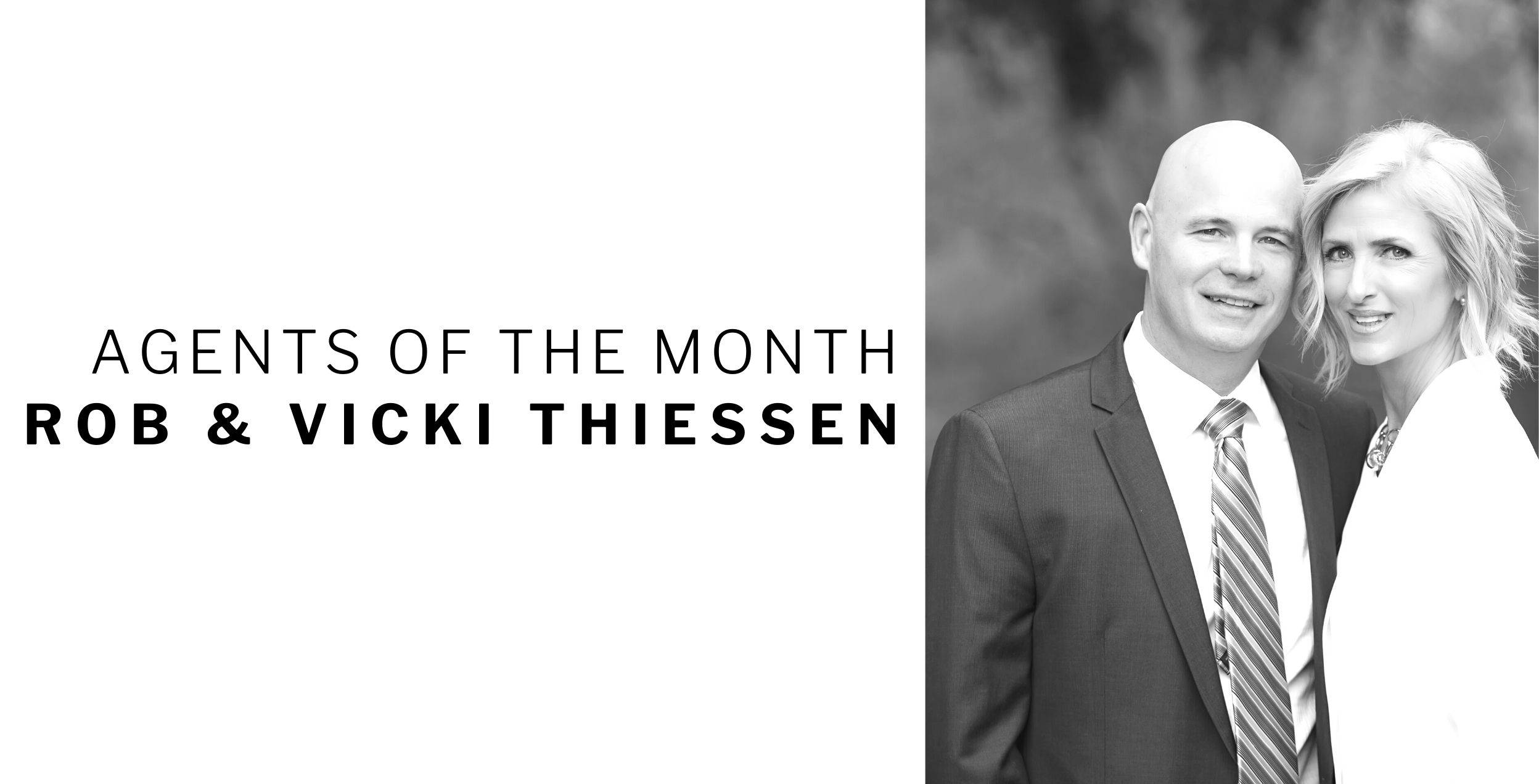 Click this link to go back to The W Disclosure Newsletter. 
Congratulations to our November Agents of the Month, Rob and Vicki Thiessen! Ever since joining the real estate industry, Rob and Vicki have found a way to combine their stellar people skills and customer service tactics with their extensive knowledge of Wine Country real estate to provide unparalleled service for their clients. Keep reading to learn more about Rob and Vicki, and their future plans for success with Thiessen Group!
To what do you attribute your success?

We are fiercely committed, resourceful and coachable
What's the biggest mistake you've made in your business or the single best thing you've ever done for your business?:
The biggest mistake we made in our business is to think we can do everything. Our goal is to build an amazing team because in the end, it isn't the technology or marketing; it's the people.
How do you balance giving personal attention to your clients while still trying to automate your business?:
Our clients know that they are a phone call away …. or a text. When we first meet with clients we let them know what they can expect from us, and vice versa; it's a win-win situation. We use automation for business operations and marketing.
How have you adapted your marketing/business during the era of Coronavirus (COVID-19)?:
Zoom is our friend as well as virtual open houses, 3-D floor plans, and Face-Time to show properties to clients who can't make it to the home. We are also committed to having a video presence so people can get to know us before we meet in person.
What is a unique aspect of the Sonoma/Mendocino/SF County Residential Real Estate market?:
Most often people come to Sonoma County to vacation. But, when they experience all our county has to offer: the beauty, the opportunities, the food and wine, great weather, hiking, diverse landscape they can't help but want to move here.

If you could only do one thing differently when you first started your business what would it be?: 
This has more to do with our team……rather than having our business revolve around us we want to create a profitable model that creates raving-fan clients and empowers the agents on our team to succeed without our constant attention.

If work-life balance is important to you how can you tell if you're are getting it right?:
If we feel frazzled and bored at the same time we know it is time to step back and look at the big picture; what are our goals and what are our core values? Real estate is the one opportunity that challenges us and at the same time doesn't feel like work.
What was the best vacation you ever had?:
In resounding agreement …… 3 weeks in Italy!
If you had one piece of advice to someone just starting out in real estate, what would it be?:
Join a team ~ Be coachable ~ Be willing to invest in yourself.