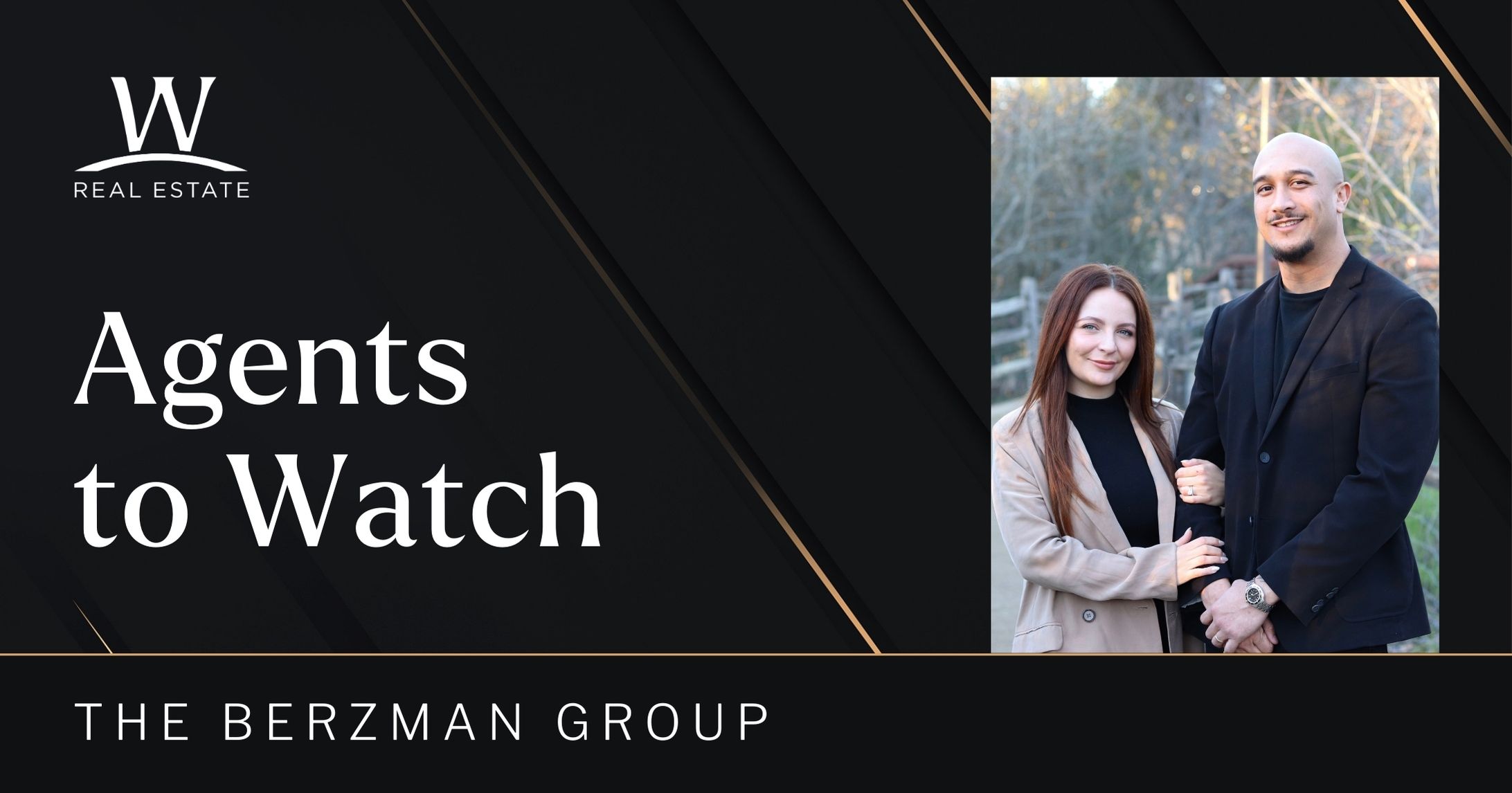 Click this link to go back to The W Disclosure Newsletter. 
Congratulations to May Agents to Watch, Hanna and Brandon Berzman of The Berzman Group! Hanna and Brandon are new to the real estate game, but you wouldn't know it. They know each other's strengths and use that knowledge to propel their careers and their client's interests forward. Keep reading to learn about this incredible husband and wife team, The Berzman Group!
What was the first thing you wrote on your to-do list for today?:
Hanna: Pay Mortgage. Happy 1st of the month 🙂
Brandon: The first thing on my to-do list is to always check my calendar and inbox. Nothing is worse than starting your day and realizing you missed your first appointment on accident.
What's the best piece of advice you've ever been given?:
Hanna: If it's too good to be true it is and always listen to your gut.
Brandon: It's easier to ask for forgiveness than permission. Leaders love to see people take initiative and I always moved up in previous work settings by bringing solutions rather than problems to my boss. Now that I'm married with a wife, and business partner, that loves me unconditionally – this is even more accurate!
What is your favorite part about working in real estate in this part of the world?:
Hanna: I am such a lover of the Bay Area, specifically Sonoma County, so to be able to assist others in finding the perfect home here is so much fun and very rewarding.
Brandon: My favorite part of working here is helping the third and fourth-generation Bay Area residents find a way to continue living in the area they were raised in and love. Being in my early 30s, I'm witnessing firsthand many people getting priced out of being able to afford a home in California. As people feel the need to leave the state to achieve the dream of homeownership, I take a lot of pride in every case I can help someone achieve that dream without sacrificing where they want to live.
Tell us about a recent challenge you came upon and how you conquered it.:
Hanna: Recently I was having an extremely hard time making a decision about an investment property. I didn't rush myself to make a decision before I felt ready. Instead, I took as much time as I needed and made a pros and cons list. Between giving myself time and making the list I was able to find the clarity I needed and make the decision.
Brandon: Recently I worked on a deal where the other side was failing to communicate and hit deadlines. I'm talking multiple calls, voicemails, and emails being ignored days at a time. My buyers were so fed up with the lack of transparency they were ready to walk away! I found myself not only having to manage the other agent involved but also having to console my buyers into not making a decision based off pure emotion. Through expert communication, the application of proven processes, and leveraging my mentor's years of experience dealing with similar situations I was able to navigate to a successful close.
What role has mentorship played in your career?:
Hanna: Our mentor Mandy has been so helpful in starting our new career in real estate. When I have a question about anything, she is right there to answer, continuously sharing her years of experience and knowledge. I have felt more confident and at ease in my first transactions knowing I can always lean on her guidance and support.
Brandon: W's mentorship program has been vital in my early successes as a real estate agent. A huge shoutout to Mandy for always being available and insightful, her guidance has been the most valuable asset I could have asked for during my first months. This appreciation also extends beyond just my mentor. From the front office staff to the leadership team, to other W agents on the opposite side of deals I have worked – thank you for always being supportive.
What's your favorite home design feature that you wish more homes had?:
Hanna: Skylights. Who doesn't love tons of natural light and a feature that automatically elevates the space!
Brandon: I love homes that have sunrooms. Also, as a little bit of a nerd, I love a dedicated library complete with windowless walls and built-in bookshelves. 🙂
If you could have dinner with anyone, dead or alive, who would you choose and why?:
Hanna: My dad. He passed away in 2021 and I would give anything to have dinner with him one more time. We loved eating good food together and I know he would love to see and hear about our new career in real estate.
Brandon: Going to piggyback off of Hanna and also say my dad here. It's been years since I've had a chance to get another male figure's advice and he always had the best. I would love to pick his brain one more time and talk to him about my daughter Violet and everything else he's missed in the last ten years.
Someone is coming to visit Sonoma/Mendocino/SF County. Where should they go first?:
Hanna: First, grab some food at Sol Food in Petaluma. Then check out some shops downtown. After that head to the coast and catch the sunset at one of the many beaches nearby.
Brandon: This time of year there's only one right answer: Go straight to the Giant's stadium, Oracle Park, and catch a game. If you ask me it's the only rival to the Golden Gate when it comes to Bay Area architecture.
What's something you're looking forward to in the upcoming year? (Wedding, vacation, new opportunity, etc.):
Hanna: I'm looking forward to finishing our remodel in the coming months and continuing to grow our business together as a newly married couple!
Brandon: The thing I'm most excited for this year is continuing to grow as a new agent. I've loved every step of the journey so far and now that Hanna and I are teammates I'm just really excited to see what we can achieve together!