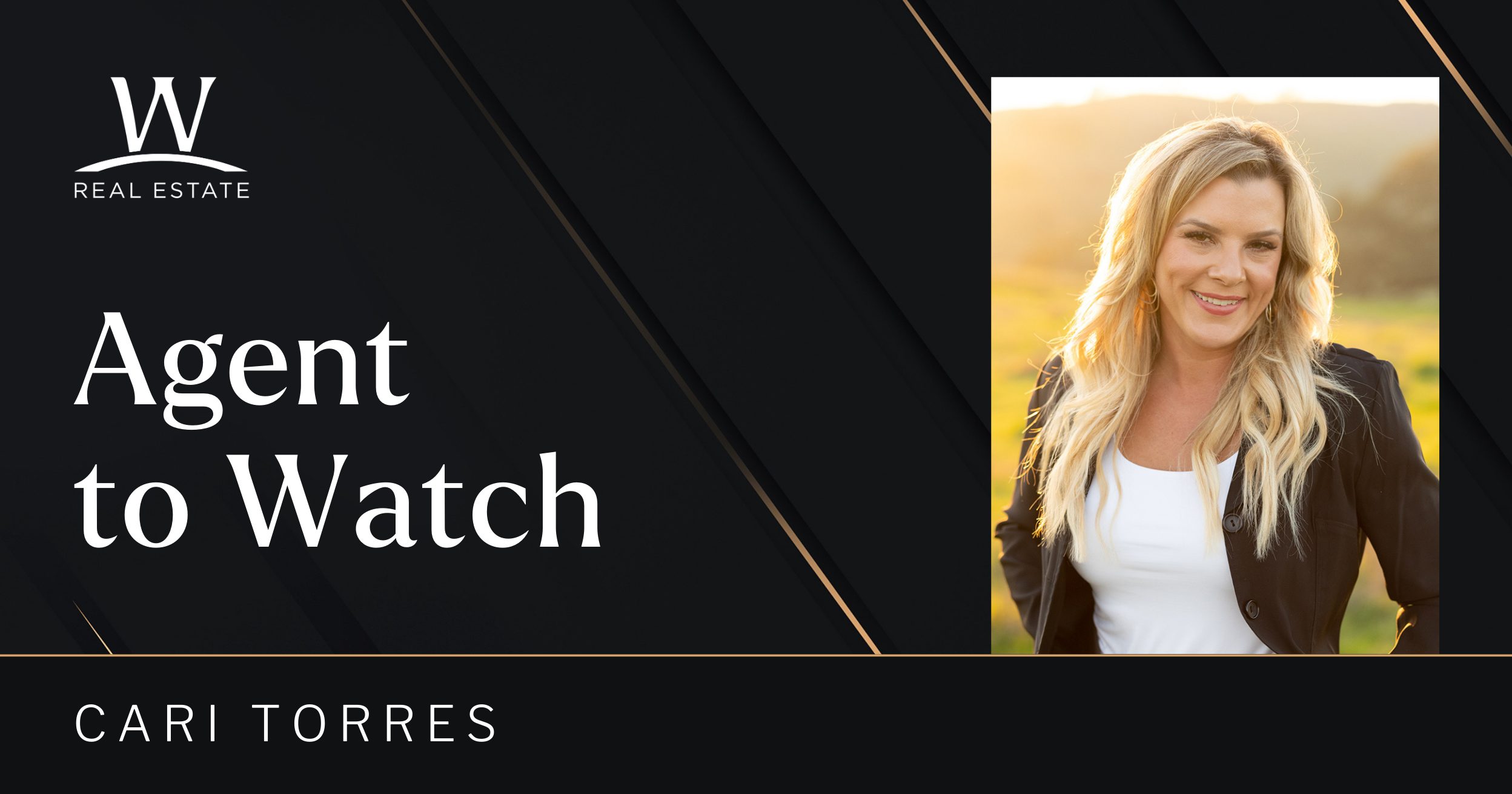 Click this link to go back to The W Disclosure Newsletter. 
Congratulations to one of our July Agents to Watch, Cari Torres! She's incredibly well-traveled but always finds her way back home to beautiful Sonoma County. It's in her nature to go above and beyond to get the job done; prioritizing her clients needs above all else. We're lucky to have such a go-getter on our WRE roster. Keep reading to learn more about Cari!
What was the first thing you wrote on your to-do list for today?:
Order postcards and Create farm list for racer. Closing on 1650 Windsor Rd. Windsor
What's the best piece of advice you've ever been given?:
You're given two ears and one mouth so listen to the people around you instead of doing all the talking. You'll learn a lot more about people in your surroundings. Take what you listened to, heard and learned and make your next move.
What is your favorite part about working in real estate in this part of the world?:
It's a desired county where I'm fortunate to be born and raised. I can help my family, friends and people looking to buy in the area with lots of knowledge. Sonoma County is a picturesque region in Northern California known for its beautiful landscapes, wine production, and vibrant communities. The real estate market in Sonoma County offers a diverse range of properties, from charming cottages and vineyard estates to modern suburban homes making it an attractive choice for those seeking a more relaxed and scenic lifestyle while still having access to urban amenities. The county includes cities such as Santa Rosa, Petaluma, Sonoma, and Healdsburg, each offering its own unique character and attractions. It's an amazing place for tourists and being out and about allows for many opportunities to have conversations with people from out of town and always creates a new conversation and possible opportunity.
Tell us about a recent challenge you came upon and how you conquered it.:
I recently had an out of area seller with an unoccupied property full of personal belongings that kept getting broken into. I had to become basically a property manager while listing the property and get the property fenced and locked up and assist getting all the personal belongings dumped and or moved out in order to make the transaction move forward. In a nutshell I just had to take authority and make it happen with the permission from my seller because she was out of the area. So it was a lot more work than just signing a listing agreement, staging and photos.
What role has mentorship played in your career?:
I've learned on my own. I never had a mentor. I got my license to buy my first home because I wanted to waive my commissions and use as my closing costs credit. This is how my real estate journey began in 2004. Once my family and friends knew that I got my real estate license they asked me for help them make a purchase and then I just dove 2 feet in and started learning everything myself.
What's your favorite home design feature that you wish more homes had?:
Open floor plan with indoor/outdoor living lifestyle.
If you could have dinner with anyone, dead or alive, who would you choose and why?:
Donald trump because for a man that is disliked by many I think he's a smart business man with no fear of judgment.
Someone is coming to visit Sonoma/Mendocino/SF County. Where should they go first?:
It would all depend on when, where and what their interests were. I'm a fan of Healdsburg, Yountville, Bodega Bay, Calistoga and Geyserville.
What's something you're looking forward to in the upcoming year? (Wedding, vacation, new opportunity, etc.):
Crash My Playa 2024! I love to travel as I sit and answer these questions from Amsterdam.