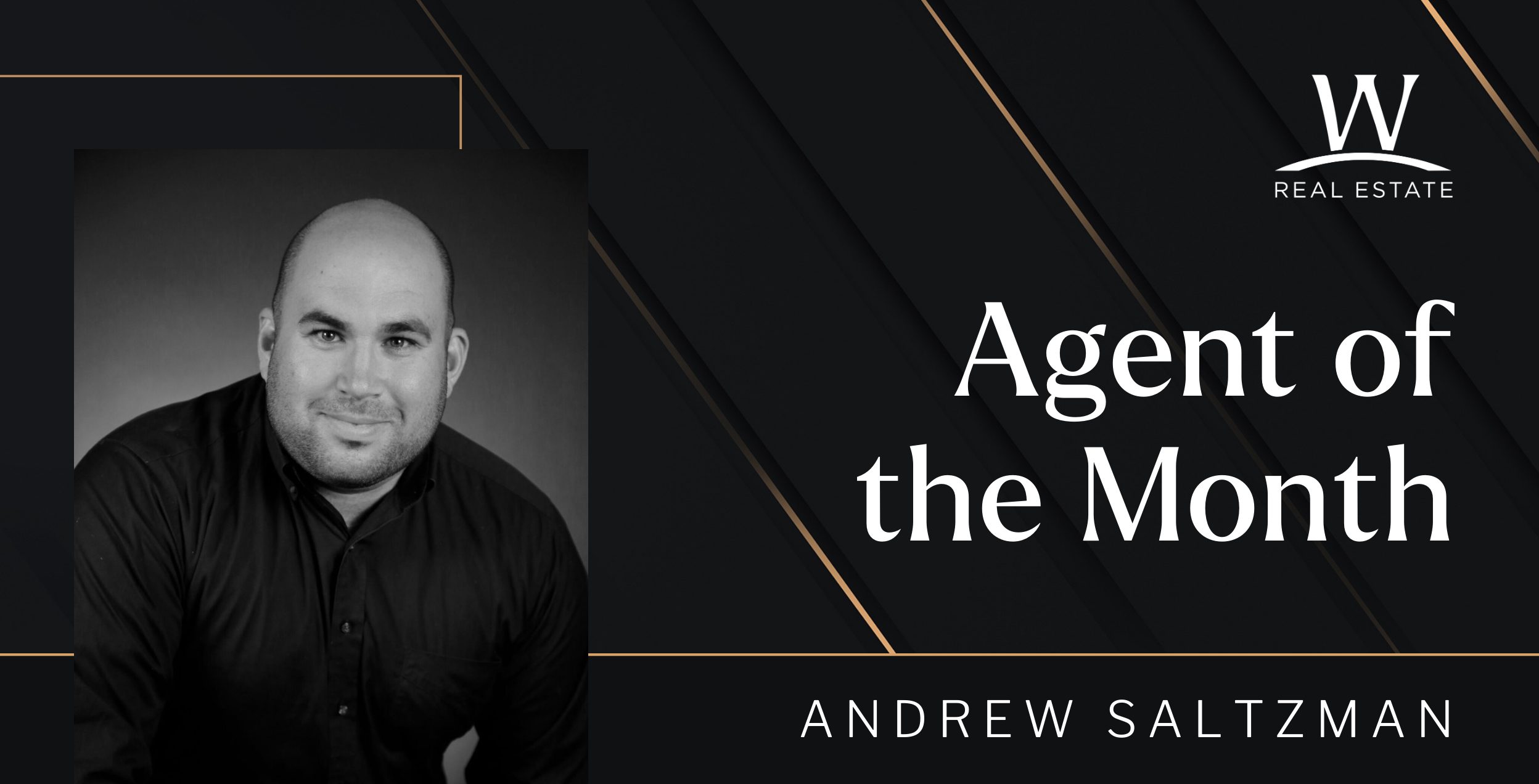 Click this link to go back to The W Disclosure Newsletter. 
Congratulations to our September Agent of the Month, Andrew Saltzman! Loyalty and a depth of market knowledge are the name of the game for Andrew. He knows that as an agent, he can bring value to his clients by successfully guiding them through the ups and downs of the home-buying process, and through his ability to close their transactions. Andrew's ongoing success is a true testament to his hard work. Browse our blog below to read more about Andrew!
What three words would you use to describe your approach to the real estate business?:
Professional. Loyal. Go-Getter.
What's one aspect of your business that you are looking to improve on this year? In what ways/how would like to see yourself improve?:
I would say probably learning more social media tricks. I am great at talking to people face-to-face. But social media has always been my Achilles heel.
To what do you attribute your success most?:
Being loyal to my clients. Being a hard worker. Never giving up. Being patient.
If you had one piece of advice for someone just starting out in real estate, what would it be?:
When I mentor new agents. I always say pick an area you like such as Fountaingrove, Rohnert Park, etc., and study that area and be the best in that area of knowledge. Know every sale. Know every floor plan. Go to every open house. See what's selling. So when that time comes and you're on a listing appointment. You shine to those sellers and blow them away.
What's the one piece of advice you always give your clients first?:
Buying or selling a house is a stressful time. But I am here to make it less stressful and let's just have fun. Let's enjoy the process and if we hit a roadblock or hurdle we will address it. That's why I'm your agent.
Failure is a natural part of achieving success. How do you recoup when things don't necessarily go your way?:
We all have had ups and downs in this industry. I think failure at times is a good thing because it humbles a person and then makes them have that drive and passion even more. It makes them want to achieve that goal even more.
If work-life balance is important to you how can you tell if you are getting it right?:
This job can be insanely stressful. This job can keep you up at night. So having an outlet is important. Working out and being with my fiancé and two dogs is my way to keep a solid level life. This job can absolutely consume you if you let it.
What roles have mentors played in your life and career?:
Mentors have played a huge role in my career. I'm not afraid to ask for advice or ask an even more seasoned agent for help or even run an idea by them. My mentor starting out was very honest and said you have to grind and no one is going to hold your hand and pay your bills for you. So that has always stayed with me.
What risks were you willing to take when starting out in your career and how have they benefitted you?:
I was all in when I first started real estate. I didn't have a backup plan. So failure was not an option for me.
If you could only ever visit one business again in Sonoma/Mendocino/SF County, what would it be and why?:
Catellies in Geyserville. It's hands down my top three favorite restaurants in Sonoma County.