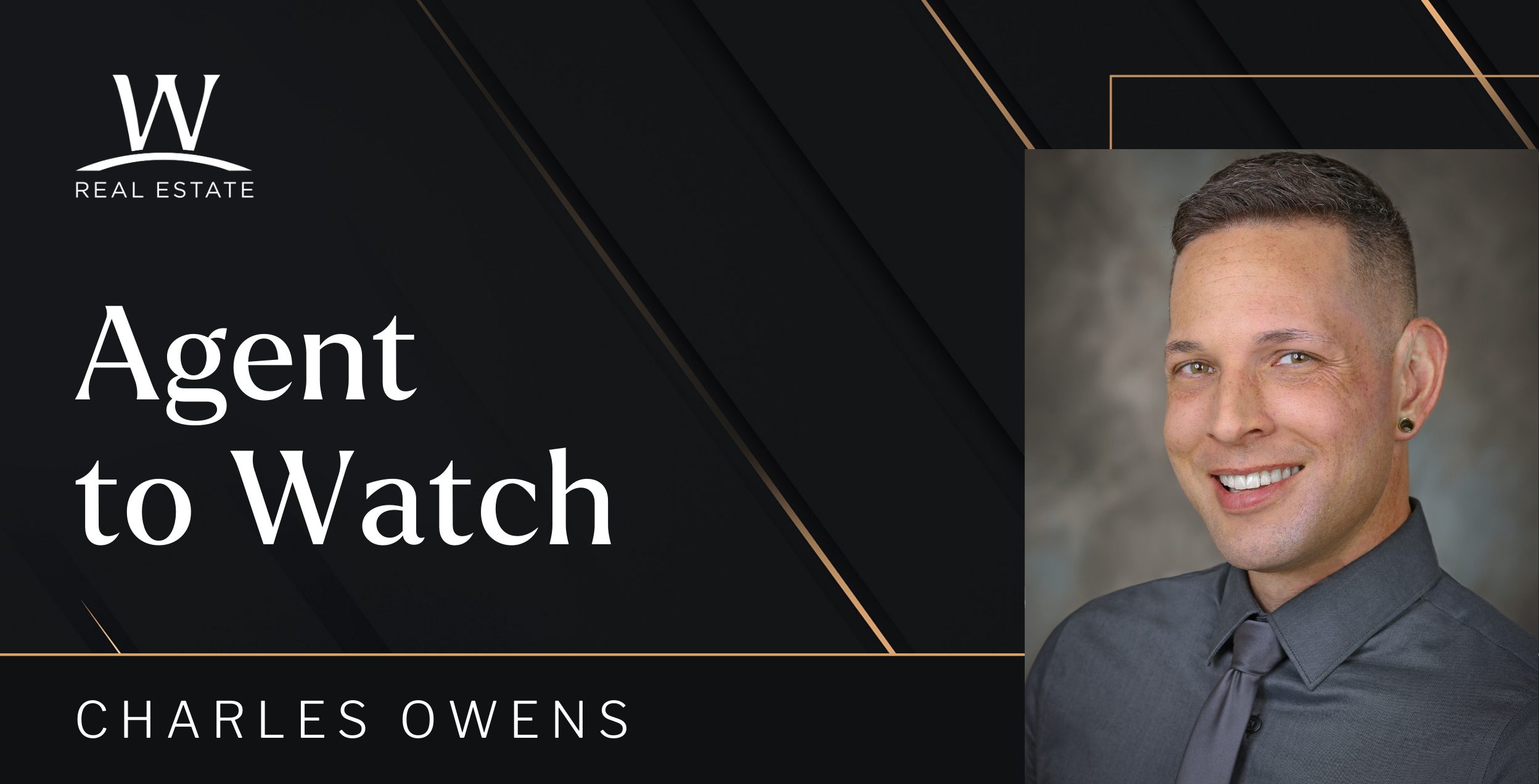 Click this link to go back to The W Disclosure Newsletter. 
Congratulations to one of our August Agents to Watch, Charles Owens! Charles's passion for real estate is one that is deeply rooted in professionalism, hard work, and a desire to see deals through on behalf of his clients. With all that and his passion for the Wine Country region, Charles is a valuable asset to the W Real Estate team. Keep reading to learn more about Charles!
What was the first thing you wrote on your to-do list for today?:
The first thing on my to-do list is always check emails/messages and respond to any clients, I always leave a little time to take care of domestic duties too!
What's the best piece of advice you've ever been given?:
"Always be patient and forgiving."
What is your favorite part about working in real estate in this part of the world?:
My Favorite Part about working in real estate in this part of the world is that we live in an area of unbelievable natural beauty. People from all over the world are drawn here because of the extraordinary natural landscapes and proximity to a variety of lifestyles concentrated in a small piece of the planet.
Tell us about a recent challenge you came upon and how you conquered it.:
Working in real estate is an industry where we are met with challenges every day. I was recently working on a deal where my seller and the buyer really wanted to make a deal work, there was some back and forth with the counter offers, and it was getting to the point that it felt like the deal might fall through. I called the buyer's agent and asked "What do we need to do to get this deal done?", and surprisingly the buyer was amenable to my suggestions and everyone was feeling like they'd won! we were able to close 10 days early and I couldn't believe all it took was some simple and clear communication, I almost didn't call and thought about how if I hadn't made that call, my seller's property might still be listed, and that buyer still searching definitely felt like a home-run!
What role has mentorship played in your career?:
Mentorship has always been important throughout my life. If one wants to lay the best foundation when learning something new, seek out those that have already mastered that skill or profession! I have been blessed to have many mentors and guides of wisdom throughout my life. I am so very grateful to have gotten to work with a mentor in real estate that has really influenced my success and desire to be a great agent!
What's your favorite home design feature that you wish more homes had?:
Well, where do I start? I love interesting architecture so this will be a challenge because there are so many thoughtful and innovative design features in new construction. However, I find that the use of stone always catches my eye. I would like to see more matching stone Slab backsplashes instead of tile. Just use the same stone being used for the counters and follow it up to the bottom of the cabinets. Nothing looks cleaner and continuous, it works well in modern design, or It can really help update a renovation and even maintain the look of an older style or design.
If you could have dinner with anyone, dead or alive, who would you choose and why?:
Since I love architecture in all its forms, but particularly in public spaces and home design. I think I would choose to dine with Frank Lloyd Wright. I don't think anyone has influenced American architecture and design style as much as he has to this day.
Someone is coming to visit Sonoma/Mendocino/SF County. Where should they go first?:
Obviously, the first thing anyone should do in Sonoma County is Wine tasting and fine dining, Having world-class wines in plentitude and exceptional foodie venues abounding, it's easy to find something for everyone to enjoy!
What's something you're looking forward to in the upcoming year? (Wedding, vacation, new opportunity, etc.):
Looking forward to breaking ground on a build project for a 2 bed 2 bath ADU in my backyard!