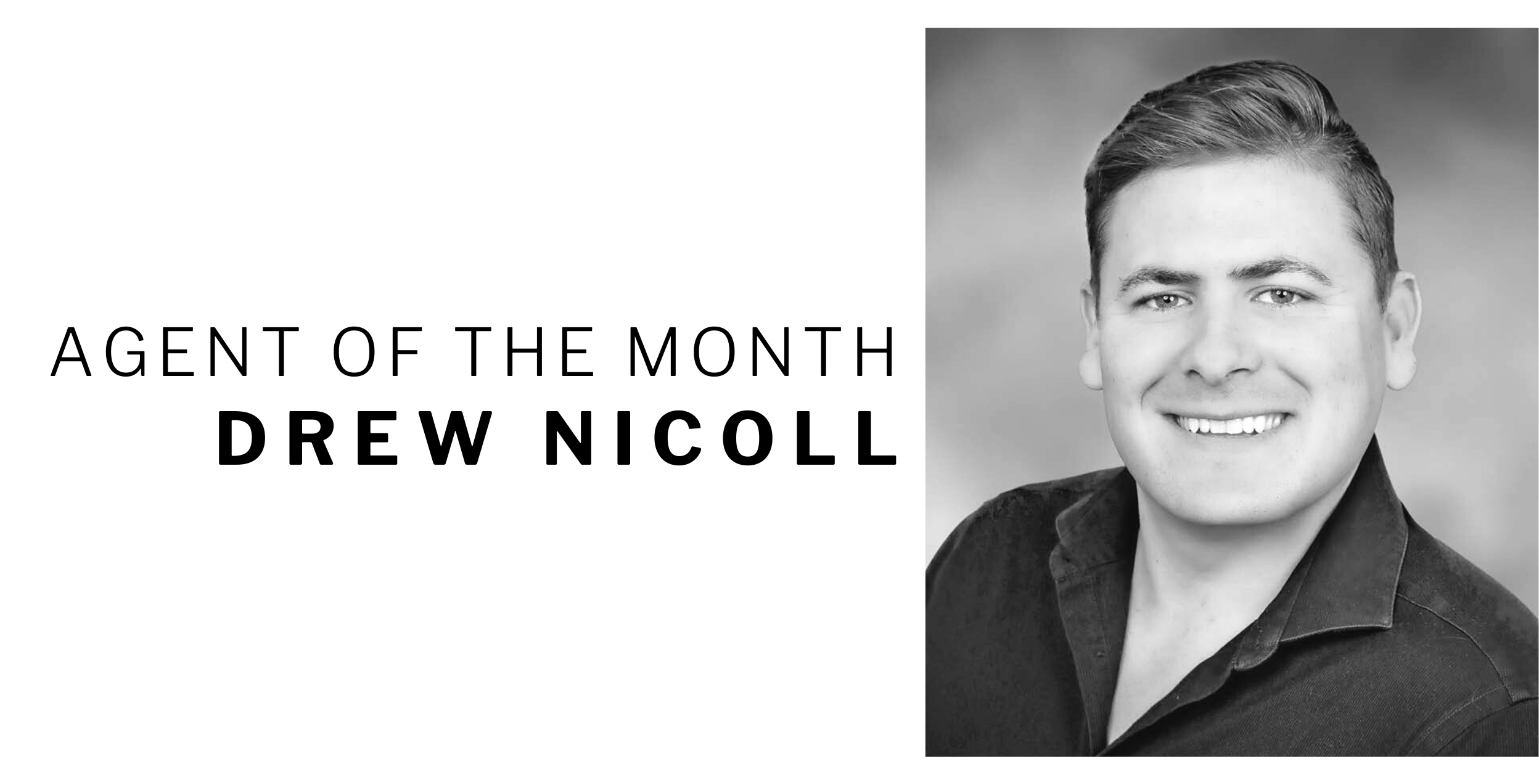 Click the image above to go back to The W Disclosure Newsletter. 
Congratulations to our newest Agent of the Month, Drew Nicoll!
Drew Nicoll is the Team Leader of the highly-successful Nicoll-Pallini Group. Drew's unwavering determination to accomplish his client's real estate goals is truly something to be admired. He pushes the envelope in his business and continues to surpass even the most unattainable goals he sets for himself. 
We value Drew's insight on business strategy and market conditions and we think you will find it beneficial as well. Continue on to read Drew's opinion on work/life balance and his advice to agents just starting out in the industry. 
To what do you attribute your success?
Utilizing proven systems to achieve desired results, being willing to work at a level most people don't want to or are not willing to work at, learning from my mentors in real estate and being willing to break real estate norms to provide clients with a higher level of service and value.

What was the last book/audiobook you read/listened to?
The 5 am Club

What software/tech tools can you not live without?
Google Business Apps, My iPhone Max, Slack.

Do you believe it is possible to have a successful career while having a fulfilling personal life? Does this balance exist?
Absolutely, this is my goal; however, it does not just happen, you have to build your business to work that way. You have to write down your business goals and the plan to get there. You have to surround yourself with the right people. You have to leverage people, systems and technology to help you be in multiple places at the same time and multiply your efforts. You have to be willing to work like nobody wants to for a few years so you can live the rest of your life like everyone wishes they could. Also, you have to be willing to take calculated risks and make less money upfront to make more down the road, essentially invest in yourself!

What is a unique aspect of the Mendocino County Residential Real Estate market?
The variety of different property types we deal with varies greatly from single-family homes to large ranches and cannabis properties. Also, the amount of people moving from the bay area to Mendocino county is a very interesting observation that I have made as to what the future for property values will look like here in our county.

What is the most underrated/overlooked part of your business?
The most overlooked part of my business is the conversations I have with leads and the questions I ask to determine timing and motivation and then the offers that I make to clients over the phone in order to propel them to come and meet with me.
What are the main things that you should look at when investing/purchasing a new property?
Location, condition, how long you are wanting or going to own it and/or live there and the overall purpose or goal of the home financially. You get hurt in Real Estate investing when you have to sell. If you don't have to sell you can ride out any market until the correction you're looking for takes place. So the property would need to cash flow enough to be able to at least pay for itself and not make you go broke if you have it not rent for a period of time.

What is a quote that inspires you?
"Success is never owned, it is rented and the rent is due every day."

If you had one piece of advice to give someone just starting out in real estate, what would it be?
Don't do what everyone else is doing; find what your strengths are in the business and focus on making those a priority. Use systems. Write out a plan for success and execute it every day. If you don't have a direction, then you will just drift and you may not like what you bump into.