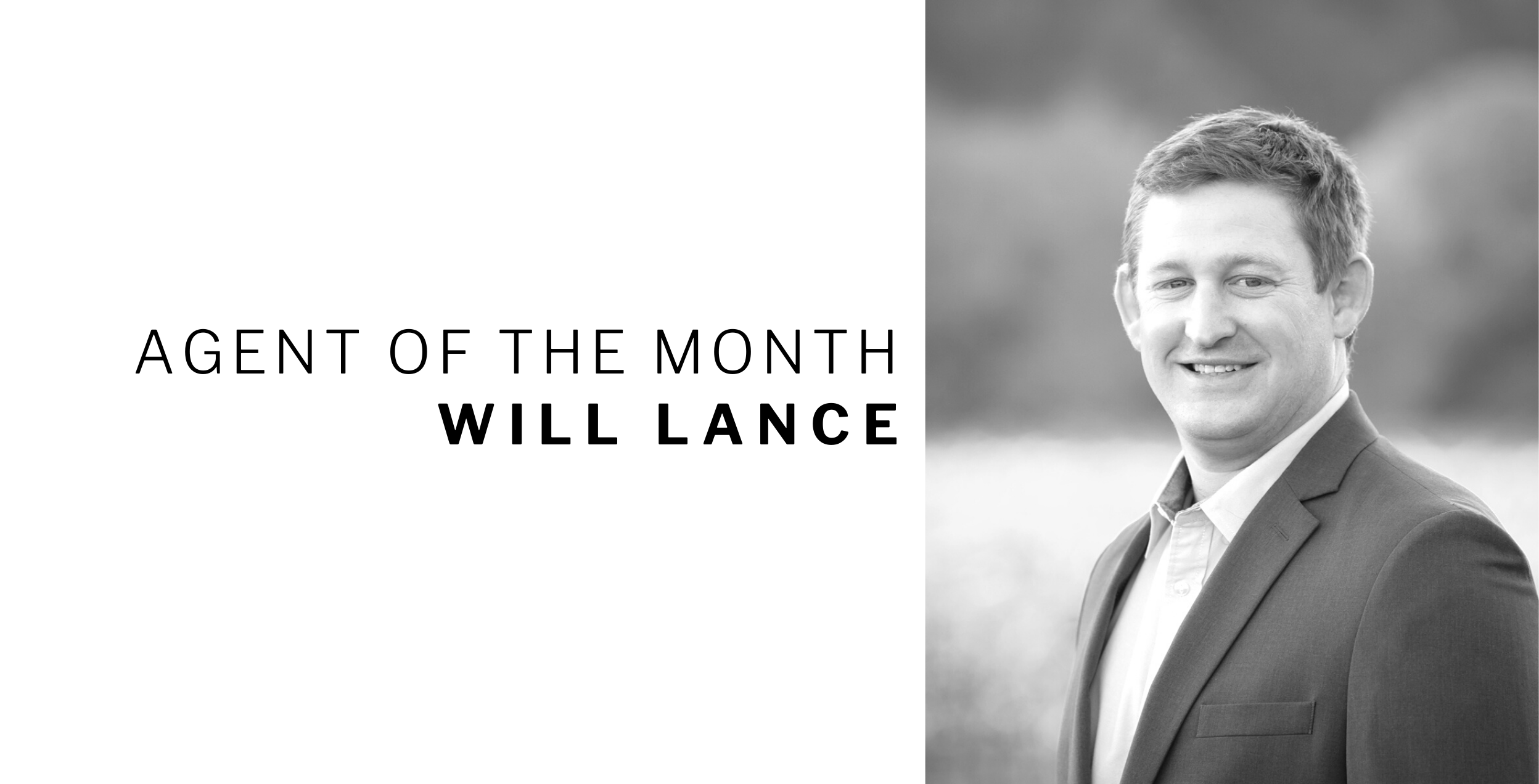 Click this link to go back to The W Disclosure Newsletter. 
Congratulations to our December Agent of the Month Will Lance! Will possesses an incredible passion for Sonoma County and the real estate market, a drive to stay connected with his clients, and the connections and knowledge to not only get the job done but go above and beyond. Keep reading to learn more about this W Real Estate all-star, Will Lance!
To what do you attribute your success?

I personally love what I do every day. Meeting new people, marketing beautiful wine country estates, and hunting down unique properties for my clients is both exciting and fulfilling.
Throughout my career, I also have been very fortunate to work with and learn from some very talented and hard-working agents and brokers.
What's the biggest mistake you've made in your business or the single best thing you've ever done for your business?:
The biggest mistake I made early on in my career was being inconsistent with prospecting. Getting systems in place to regularly market and generate new leads has been instrumental in growing my business.
The single best thing I have done in my real estate career has been investing in residential income properties. This has allowed me to have a constant income stream, making it easier to navigate the ups and downs of the industry.
How do you balance giving personal attention to your clients while still trying to automate your business?:
I'm pretty much on my phone all the time and I don't really mind it. If I'm not talking to clients, it's to my friends and family. I do have systems in place to stay in contact with my previous clients and when I am actively working with someone on a listing or purchase I am available anytime.
How have you adapted your marketing/business during the era of Coronavirus (COVID-19)?:
Zoom has been a great tool for client interaction, as well as MLS meetings and trainings.
What is a unique aspect of the Sonoma/Mendocino/SF County Residential Real Estate market?:
My wife Laura and I live in Healdsburg with our 18-month-old son Drew. We absolutely love the restaurants, wineries, the river, parks, and community. Healdsburg's residential real estate market is unique in the fact that many people live in Healdsburg part-time. We are lucky enough to call Healdsburg our full-time home.
If you could only do one thing differently when you first started your business what would it be?: 
I wish I would have spent more time perfecting my database and maintaining relationships already in my network instead of pursuing online leads.
If work-life balance is important to you how can you tell if you're are getting it right?:
Working hard, but taking the time to relax and celebrate successes with family and friends is balance in my opinion. Even if it is just a date night out, spending time celebrating wins with your family is important.
What was the best vacation you ever had?:
Honeymoon in Bora Bora was fantastic!
If you had one piece of advice to someone just starting out in real estate, what would it be?:
Show up every day. Watch what the successful agents in your office are doing and try to emulate them. Find a mentor. Be full-time.